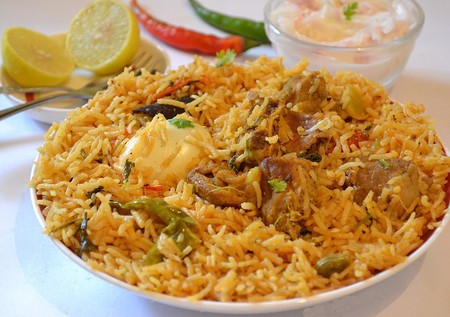 Best Biryani Restaurant in Abu Dhabi aims to serve you sizzling hot delicious dishes
If you plan to visit here within Abu Dhabi and wish to taste food here be it veg or non-veg then this is the Best Biryani Restaurant in Abu Dhabi(أفضل مطعم برياني في أبو ظبي). Ensure that you don't get rush within your mind, we would help you to list out the Best Biryani in Abu Dhabi. Abu Dhabi turns to be the second most popular city within United Arab Emirates (UAE) after Dubai and is widely known for its delicious cuisines. Abu Dhabi turns to be one of those cities wherein the majority of people love to eat Biryani. Abu Dhabi turns to be one of the best modern cities within the world that is also a great tourist attraction. Additionally, it serves scrumptious Best Bamboo Biryani in Abu Dhabi.
Where would you get a huge number of variables with Mouth-watering taste? Where the chef is also quite accommodating towards your request or else order. The staffs is kind enough and polite too to serve your food, and always talks gently. It also provides you with the best facilities like home delivery, reservations, outdoor sitting and a lot more. It has got a grand architecture that provides a beautiful look to enjoy your meal and its outdoor sitting facilities also makes it one of the Best Biryani Restaurant in Abu Dhabi(أفضل مطعم برياني في أبو ظبي). At the restaurant, you get offered with Authentic Hyderabadi food of excellent quality and aims to invite you so as to try the delicious and authentic Hyderabadi food. The key towards success turns out to be quite simple – providing quality consistent food that tastes really great every single time. The restaurant takes in pride to serve the customers with delicious genuine dishes like Chicken Biryani, Mutton Biryani, Mayaqaliya, Tahari, Qubani ka Mettha, Double ka Meetha etc.
Make your day memorable for lifetime with Best Biryani Restaurant in Abu Dhabi
Biryani turns out to be a part and parcel of multiple lives within Abu Dhabi. Almost every localite, irrespective of the caste and religion celebrates with these dish special occasions like weddings, birthdays, parties and even some festivals. It becomes out the main dish in their lunch/dinner menu. Till today, multiple people make their weekend amazing with the biryani time. Not just for the people within Abu Dhabi, Sajway's Biryani is popular to make your day just go amazing. For people outside the city this craze may look out to be mysterious however once they taste the authentic dish, they would surely admire it for how flavoursome it is. It is necessary to select a good as well as popular restaurant to make your day amazing.
Chicken turns to be cheaper than mutton. You get more meat with chicken biryani rather than mutton biryani. Multiple restaurants either do not use good mutton or else give only a very limited quantity of meat just because of its cost. This affects the eating experience. Better that you go for chicken dish if you prefer to have more meat. You may have mutton dish only within a few places, that too during the peak hours. Other times it is safer to go for chicken indeed when you wish to have chicken biryani. When you cook the dish, or have at some other's place, or at a popular restaurant always select Mutton Biryani. It is authentic as well as an amazing dish to try on at Best Biryani Restaurant in Abu Dhabi(أفضل مطعم برياني في أبو ظبي).
Add grace to your day abundantly at Best Biryani Restaurant in Abu Dhabi
The semi arid vegetarian of the plateau with its rolling hills, boulders and volcanic dish is an amazing place to rear goats. Chicken occurs out to be a late entrant within Abu Dhabi. There are other varieties of non-vegetarians biryanis today. The creativity of the people basically invented a number of similar dishes like fish, prawn, egg and vegetable biryani etc. Mutton and Chicken dishes are popular within the city. This is an affordable restaurant with the best professional chefs, amazing ambience and good quality food. The Best Biryani Restaurant in Abu Dhabi(أفضل مطعم برياني في أبو ظبي) comes up with enhanced business centre so as to help you with the most amazing food. The facilities here is above words that help to make your day just the best at Sajway.